Products Main Page
Smead Labels Software
Colorflex Labels Software
Jeter Labels Software
Quick Links

ClickStrip® Labeling Design Printing Software & Labels
ClickStrip Software Discontinued - See Replacement Colorbar Print Software.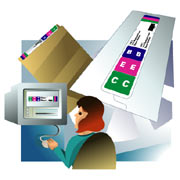 Now you can have the efficiencies of a color-coded shelf filing system without having to apply multiple labels to your folders. ClickStrip® Software is a perfect way for small offices and clinics to enjoy the benefits of high-density filing with minimal labor and cost.
We have a special promotion that allows ClickStrip users to upgrade for free to ColorBar.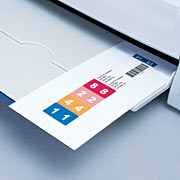 The easy-to-use label design printing software prints all of your file information on a single strip label using your desktop color Inkjet printer. The strip labels are quickly applied to folders in one easy step. If you currently use a multiple label design system, ColorBar ClickStrip® can match your colors and design. More than 20 of the most popular alphabetic and numeric indexing systems are preset, including Smead, Tab, Jeter, Barkley and others. Just enter your data and click to print. If you need a custom format for your label design filing system, we can assist increating a ColorBar ClickStrip® design that fits your specific indexing requirements.
Specifications:

Conveniently sized forms feed into most all Inkjet printers at standard envelope settings.


Print color coded letters or numbers to match any popular labeling design system.


Unique alignment contours line up with standard end-tab folder tabs for precise label design positioning.


Exclusive ColorFit system aligns labels perfectly to ColorBar® Folders.


Print names, addresses, account numbers, or any text on both sides of the label for quick identification.

Automatically generate bar codes for electronic tracking using document management software.

Print color coded year codes or color bands that indicate specific types of files.

Color coded filing is only a click away
---
Colorbar ClickStrip® Labels for Ink-Jet Printers (Waterguard Labels)
Item No.
Description
Price/Pack
02780
Colorbar ClickStrip® Singles, 50 pack for Ink-Jet Printer
- Upgrading to the ColorBar software

Discontinued

02781
Colorbar ClickStrip Single Inkjet 250 per pack, 5 packs per carton
Size: 7.5"W x 1.5"H
-

Minimum 5 packages per order

$71.95
---
Colorbar ClickStrip® Labels for Laser Printers
Item No.
Description
Price/Pack
02782
Colorbar Click Strip Single Laser 250 per pack, 5 packs per carton
Size: 8"W x 1.5"H
-

Minimum 5 packs per order

$44.10
---
Custom Label Design
Item No.
Description
Price/Each
02136
Custom Label Design
- Does not include Colormap editing or custom Index System.
$200.00