Medical Chart Admission Index Tabs & Divider Sheets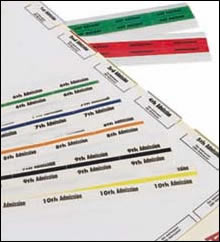 Medical chart admission index tabs & divider sheets make indexing of admission files easy and economical. No more wasted pre-tabbed and numbered divider sheets. Tabs are easily attached to position marks on the 8-1/2" x 11" four-hole punched divider sheets.
Admission index tabs and divider sheets can be used for either side or top fastened medical record folders. Self-adhesive 1-1/2" tabs are plastic laminated.
Divider sheets 400 per pack.
Admission index tabs 100 per pack, available from 1st admission to 10th admission, emergency and outpatient tabs.
---
Admission Index Tabs and Divider Sheets for Medical Chart
| | | | | |
| --- | --- | --- | --- | --- |
| Item No. | Description/Title | Color | Qty/Pk | Price |
| 14500 | Admission Divider Sheets, White, 400/Pk | White | 400 | $59.50 |
| 14501 | 1st Admission Index Tab, Light Blue, 100/Pk | Light Blue | 100 | $5.50 |
| 14502 | 2nd Admission Index Tab, Red, 100/Pk | Red | 100 | $5.50 |
| 14503 | 3rd Admission Index Tab, Light Green, 100/Pk | Light Green | 100 | $5.50 |
| 14504 | 4th Admission Index Tab, Gray, 100/Pk | Gray | 100 | $5.50 |
| 14505 | 5th Admission Index Tab, Gold, 100/Pk | Gold | 100 | $5.50 |
| 14506 | 6th Admission Index Tab, Green, 100/Pk | Green | 100 | $5.50 |
| 14507 | 7th Admission Index Tab, Blue, 100/Pk | Blue | 100 | $5.50 |
| 14508 | 8th Admission Index Tab, Orange, 100/Pk | Orange | 100 | $5.50 |
| 14509 | 9th Admission Index Tab, Black, 100/Pk | Black | 100 | $5.50 |
| 14510 | 10th Admission Index Tab, Yellow, 100/Pk | Yellow | 100 | $5.50 |
| 14511 | EMERGENCY Index Tab, Red, 100/Pk | Red | 100 | $5.50 |
| 14512 | OUTPATIENT Index Tab, Green, 100/Pk | Green | 100 | $5.50 |