Multi-Media Storage Racks or Stands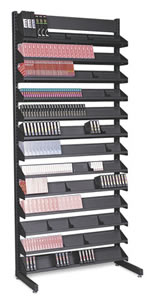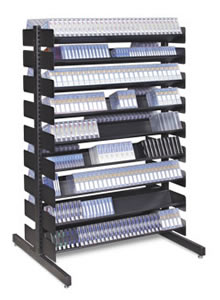 Media Storage Racks (Stands) are available 54" & 84" high as well as SINGLE or DOUBLE sided. Shelves are adjustable in 1" increments and comes with 2 adjustable dividers. Uniquely angled to hold most computer media. Perfect for CD/DVDs, DLT, LTO, VHS, Films, Tapes and more. Click to view capacity.
Multi-Media Storage Racks available in pre-configured unit for storage of LTO, DLT & 3590 series computer back-up media. All racks are shipped with the only tool required (allen key) included. Assembly required.
Individual components available, click here.
FOB: Tonawanda, NY 14150 PP&ADD. Standard Delivery (3-5 weeks), Stock availability and order quantities may require additional ship days.
NOTE: Freight and inside delivery required additional quotation, please fill out Shipping Quote Form (pdf). Contact us at 1-888-891-1970 or email at sales@filingtoday.com for more information.
Pre-Configured Media Storage Racks
| | | | | | |
| --- | --- | --- | --- | --- | --- |
| Item No. | Description | Units | Color | Est. Lbs. | Sale Price |
| 048-84140 | 84"H Single Sided Media Racks, Complete with (2) x 84" Posts (14) Media Shelves, (1 set) Joiner Bars | Single | Black Santex | 97 | $959.00 |
| 048-84142 | 84"H Single Sided Add-on, Complete with (1) 84" Post (14) Media Shelves, (1 set) Joiner Bars | Add-on | Black Santex | 88 | $855.00 |
| 048-54090 | 54"H Single Sided Media Racks, Complete with (2) x 54" Posts (9) Media Shelves, (1 set) Joiner Bars | Single | Black Santex | 70 | $688.00 |
| 048-54092 | 54"H Single Sided Add-on , Complete with (1) 54" Post (9) Media Shelves, (1 set) Joiner Bars | Add-on | Black Santex | 62 | $609.00 |
| 048-84280 | 84"H Double Sided Media Racks, Complete with (2) x 84" Posts (28) Media Shelves, (1 set) Joiner Bars | Single | Black Santex | 171 | $1,594.00 |
| 048-84282 | 84"H Double Sided Add-on , Complete with (1) 84" Post (28) Media Shelves, (1 set) Joiner Bars | Add-on | Black Santex | 160 | $1,480.00 |
| 048-54180 | 54"H Double Sided Media Racks, Complete with (2) x 54" Posts (18) Media Shelves, (1 set) Joiner Bars | Single | Black Santex | 119 | $1,111.00 |
| 048-54182 | 54"H Double Sided Add-on , Complete with (1) 54" Post (18) Media Shelves, (1 set) Joiner Bars | Add-on | Black Santex | 109 | $1,019.00 |
---
Components
| | | | |
| --- | --- | --- | --- |
| Item No. | Description | Est. Lbs. | Sale Price |
| 048-00100 | 84"H Single Sided Post | 9 | $130.00 |
| 048-00101 | 54"H Single Sided Post | 8 | $98.00 |
| 048-00102 | 84"H Double Sided Post | 11 | $142.00 |
| 048-00103 | 54"H Double Sided Post | 10 | $115.00 |
| 048-00115 | Media Shelf 32" wide (comes with 2 dividers), 4"H x 32"W x 5"D | 5 | $55.00 |
| 048-00145 | Joiner bars 32" (set of 2) MUST ordered 1 set for each 32.5" section | 9 | $168.00 |
| 048-00155 | Additional shelf dividers | 0.5 | $2.30 |
---
Capacity per Multi-Media Shelf
| | | |
| --- | --- | --- |
| Media Types | Qty. | Space Req. |
| DLT/SDLT(in case) | 25 | 6" |
| LTO/LTO2 (in case) | 30 | 6" |
| CD/DVD (jewel case) | 78 | 7" |
| CD/DVD (Slim Line) | 156 | 7" |
| 4MM | 52 | 5" |
| 8MM | 40 | 5" |
| VHS (sleeve or case) | 30 | 9" |
| Optical 5.25" | 45 | 7" |
| 3480/3490/3590 | 32 | 6" |
| 16MM FILM | 32 | 5" |
| 35MM FILM | 20 | 5" |