Smead Color-Coded End Tab Folders - CC3 Style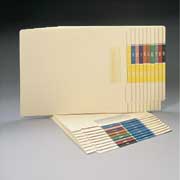 Avoid repetitive label application and save personnel time and supply costs in large numeric shelf filing systems by using preprinted Color-coded End Tab folders - CC3. Two large color bars with reverse numerals are positioned in the center of the straight cut tab on our Shelf-Master end tab manila folders. Can be used in straight numeric, middle digit or terminal digit numeric indexing systems to indicate the primary filing numerals. Or use to indicate your own special classification, such as policy type at an insurance company, or to designate the year medical files are created. The ten distinctive colors that are used to designate the numerals 0-9 are the same colors used on Smead color-coded numeric labels, so you can easily add additional single or double digit numeric labels to further color code the system. A 20 year aging scale is printed on the front panel.
Specifications: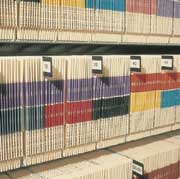 Straight cut, two-ply tab

11 point manila stock

Tab 1/2" wide

Scored for 3/4" expansion

Front panel undercut 1/4" at bottom

Top corners rounded, front and back

20 year aging scale printed on front panel

2" H x 1/2" W color-coded bars with reverse numerals printed both sides of tab

10 distinctive colors match Smead numeric label colors

Two color blocks per folder numbered 00 thru 99 (100 combinations)

Slit punched to facilitate installation of self-adhesive fasteners

10% recycled content, 10% post-consumer material
---
LETTER SIZE 12-1/4" W x 9-1/2" H Overall, 11-3/4" W Body, 9" H Front
Made to order item with a 500 minimum.
We print a strip label with the CC3 design and attach to the folder with the number sequence you need. Please contact us at 1-888-891-1970 or email at sales@filingtoday.com for more information.
| | | | |
| --- | --- | --- | --- |
| UPC No. | Description | QTY | Price |
| 31500 | 100 Combinations per Box. One folder each of consecutive assorted numeric combinations 00 thru 99, inclusive. (minimum order 500) | 100/Box | Call for quote |
Like-Number Combinations: Order specific quantities of any numeric combination 00 thru 99. Packed 100 folders per box, total number of folders must be ordered in multiples of 100. Minimum order 100 folders. Specify the number of folders of each numeric combination using stock numbers as follows: Numeric Combination xx*
* Where XX is a number from 00 thru 99.
When ordering with installed fasteners, the additional bulk of the fasteners requires that fewer folders can be packed per box.
The digits and their corresponding colors are as follows:
| | |
| --- | --- |
| 0 - Yellow | 5 - Brown |
| 1 - Light Blue | 6 - Green |
| 2 - Pink | 7 - Gray |
| 3 - Purple | 8 - Red |
| 4 - Orange | 9 - Black |