Color Coding reduce filing and retrieval time – Color codes guide users to within inches of desired folder. Virtually eliminates misfiles. Reduces labeling cost to pennies per label. Improves the availability and use of information.
Why Choose ColorBar?
Simple. Flexible. Integratable. The ColorBar® suite of color labeling products gives you the power to produce labels with maximum ease and flexibility. Whether you print one label at a time, need label design capability, or require label printing at multiple locations, ColorBar meets your color labeling needs.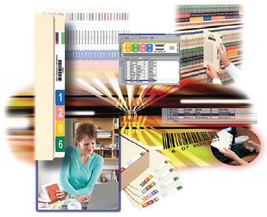 ColorBar is a label design and printing application that helps maximize the efficiency of your paper filing system. Quickly and easily create labels and folders that include file headings, color coded indexing, bar codes, text, imges, and graphics.
ColorBar makes managing large filing systems less labor intesive and virturally elimintes misfiled documents. Integrate ColorBar labeled folders into your current filing system with exact visual and color match, or create a new filing system tailored to your organization's needs.
ColorBar is a perfect solution for high-volume filing departments or any company that wants an easy way to generate color coded files on-demend.
Easy to use software for printing color coded labels using your PC and color printer. Print any number of different label designs or print entire folders using ColorBar printable folders. ColorBar Print integrates with document management applications, and can print labels automatically from host data.
Design your label to match any existing system, including Smead®, Tab®, Jeter®, Ames®, Barkley®, Traco®, GBS/VRE and Kardex®.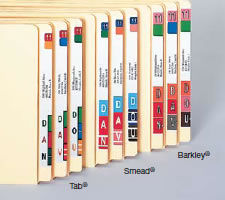 Automated label printing
Database connectivity
Advanced integration features
Advanced label design capability
Comprehensive bar code support
Works with unlimited ColorBar 7 label designs
Create alphabetic, numeric or custom index filing systems
Match any existing system, including Smead, Tab, Jeter, Ames, Barkley, Traco, GBS/VRE and Kardex
Generate labels from keyboard entry or import data from virtually any source
Create labels to your exact specifications
True WYSIWYG design and editing
Available for web, stand-alone or network applications
Integratable with records management software packages