Standard Color File Folders - Color End-tab Filing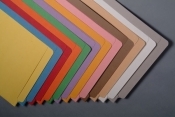 End-tab file folders. These color folders come in 12 different colors and feature a two ply end tab with scored tick marks for easy application of color coded labels. The undercut front panel helps aid in the application of individual labels or computer driven labels and helps makes the label stand out for extra readability. Smead and Barkley Compatible .
LETTER SIZE: 12-1/4" W x 9-1/2" H, 11-3/4" W Body, Undercut to 11-3/8"

Catalog page 34.
Specifications:
Reinforced two-ply tab

Tab 1/2" wide

Scored for 3/4" expansion

Scored tick marks for label placement

Top corners rounded, front and back

10% recycled content, 10% post-consumer material

11pt or 14 pt manila stock

Front panel 9-1/2" high

Front panel undercut 1/4" deep

2" Bonded Fasteners

5 Box Per Carton

Letter Size: 12-1/4" W x 9-1/2" H, 11-3/4" W Body, Undercut to 11-3/8"

Specify color options: Blue, Goldenrod, Gray, Green, Lavendar, Orange, Pink, Red, White, and Yellow (Color Not Available Brown and Tan)

Colors may vary slightly on product from colors illustrated



---

11 pt Color File Folders, Full Cut 2-Ply End Tab, Letter Size (Box of 100)


Click to enlarge

Part Number: S-1500
Qty/Bx
Price
5+
10+
20+
100
$31.01
$28.76
$26.51
$25.16

---

11 pt Color File Folders, Full Cut 2-Ply End Tab, Letter Size, Fastener Pos #1 & #3 (Box of 50)


Click to enlarge

Part Number: S-1502
Qty/Bx
Price
5+
10+
20+
50
$31.01
$28.76
$26.51
$25.61

---

11 pt Color File Folders, Full Cut 2-Ply End Tab, Letter Size, Fastener Pos #1 (Box of 50)


Click to enlarge

Part Number: S-1501
Qty/Bx
Price
5+
10+
20+
50
$30.11
$27.86
$26.06
$24.71

---

14 pt Color File Folders, Full Cut 2-Ply End Tab, Letter Size (Box of 50)


Click to enlarge

Part Number: S-1600
Qty/Bx
Price
5+
10+
20+
50
$24.71
$22.91
$22.01
$21.11

---

14 pt Color File Folders, Full Cut 2-Ply End Tab, Letter Size, Fastener Pos #1 & #3 (Box of 50)


Click to enlarge

Part Number: S-1602
Qty/Bx
Price
5+
10+
20+
50
$41.36
$39.56
$36.86
$33.26

---

14 pt Color File Folders, Full Cut 2-Ply End Tab, Letter Size, Fastener Pos #1 (Box of 50)


Click to enlarge

Part Number: S-1601
Qty/Bx
Price
5+
10+
20+
50
$36.86
$33.71
$31.46
$30.56