Color Coded Strip Labels
American Filing Solutions is an industry leader producing factory-applied strip labels for compatible, color coded systems. We uses various printing technologies to create color coded systems that are compatible with any system. We stocks many of the most common systems available. These systems include Ames®, Acme® Visible, Barkley®, Col'R Tab®, GBS®, Jeter®, SavTyme®, Smead® and Tab® Products. Color coded systems can be applied to any standard folder, pocket or jacket. The product can be collated into any sequence you require and is ready to use out of the carton.
Computer Generated Color-Coded Strip Labels
Minimum Order 1000 Labels. These labels can have variable information from customer supplied data or can be generated in sequential order. Contact Customer Service for details.
Production: Standard production time is estimated at 3-4 Weeks, after an approved label design. Contact customer service at 1-888-891-1970 or email at sales@filingtoday.com to verify current production time for your specific request.
| | |
| --- | --- |
| - | Label Design Fee $200.00 Net/Per Lot |
| - | Hand Application to Folders * $200.00 Each |
| * | Applies to standard manila folders with 3/4" Expansion, pressboard folders and file jackets with no expansion. Must have a 7/8" tab exposure for auto application. |
| ** | Applies to folders with W fold expansion, file jackets with expansion and file pockets. |
All pricing below is per M (1000)
Description
1,000
2,000
5,000
10,000
25,000+
Non-Appplied Roll Labels
Waterguard Non-Laminated Roll
$228.00
$174.00
$158.00
$142.50
CALL
Non-Appplied Roll Labels, Laminated Roll
$228.00
$174.00
$158.00
$142.50
CALL
Auto-Applied Strip Labels
Color Coded Strip Label (With Auto-Application) *
$296.00
$242.00
$225.00
$210.00
CALL
---
Computer Generated Labels
Custom color code strip labels can be created from your design. Similar to regular offset printed strip labels, computer generated labels offer more features. For example, barcodes, logos, year bands and classification bands can be printed on the label. The labels can be printed in consecutive, terminal digit or alphabetic order - however you request them so the folders are ready to be used right out of the box. Labels are coated with a clear glossy or matte poly laminate giving them protection and extra strength. Strip labels are factory applied to the folder, pocket or jacket.
Computer generated labels can be produced in a straight numeric sequence or you can supply an information disk for sequencing your labels. Data received by us should be in one of the following formats for label design production. Data must be organized and sorted into the order you wish it to be printed!
Microsoft Access ® Database (*.mdb)
Microsoft Excel ® (*.xls)
DBASE compatible database (*.dbf)
Structured ASCII Text File
FLAT (Fixed Length ASCII Text File)
ASCII text file (.txt) Delimited - fields in this type of file are separated by either a unique character (one that does not appear any place in your data) or by using commas (,) with quotes as a text qualifier ("). All fields should be exported as text, including numeric fields. Field names in the first record are most helpful. See samples below:
"FULL NAME", "SSN", "DOB"
"LARSON, DAVID", "123-45-6789", "06/15/1972"
"BERQUIST, TIM," "556-67-7889", "12/12/1967"
FRANKLIN, WILLIAM," "987-65-4321", "03/17/1947"
ASCII text file (*.txt) Fixed Width - fields in this type of text file are in columns with a fixed length, with the date justified to the left of each column. See example:
| | | |
| --- | --- | --- |
| Full Name | SSN | DOB |
| VALARIE, DAVID | 123-45-6789 | 06/15/1972 |
| CARMEN, TIM | 556-67-7889 | 12/12/1967 |
| KIM, WILLIAM | 987-65-4321 | 03/17/1947 |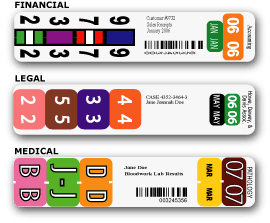 There should be no blank records in the data and no page breaks, headers or footers. Data should either be mailed on a disk (ZIP files are OK) or e-mailed as an attachment. Excessive manipulation or sorting of the data constitutes programming and will be charged accordingly. Approval of sequence order is required prior to label production.
Color Matching

To assure an acceptable color match for any finished label order, we suggest that you mail, with your order, a sample of each number (0-9) and / or alphabetic (A-Z) color. We will calibrate the color output for each order to be as close as possible to supplied samples. Signed approval of colors is required prior to label production.

Alpabetic Filing

Files are arranged by names - company, subject or individual - in dictionary order.

Alphabetic filing is the most commonly used method for systems with less than 5,000 records.

Alphabetic filing methods allow anyone direct access to information contained in the files because cross-references are not needed.

When color coding is not used in large volume alphabetic filing systems, the repetition of common names makes filing extremely tedious and may lead to errors and frequent misfiles.

Straight Number

Files are arranged by number in sequential order from the lowest to the highest.

Straight Numeric is the most practical filing system for large records, especially for filing systems larger than 5,000 records.

A benefit of straight numeric filing is that unlike large alphabetic systems there is no duplication of files - each number is unique.

Security of files is enhanced because access to a record is not possible without access to the alphabetic cross-reference system.

Straight numeric filing is the easiest and simplest system to learn, since it is based on sequential numbering. Numbers are faster to read and easier to file than letters.

Terminal Digit

Terminal digit filing systems arrange files in groups according to the last digits.

Terminal digit filing is an efficient filing method for systems that exceed 10,000 records or have "skips" in numeric sequences that are created when social security numbers or files have been purged extensively.

File numbers are assigned in straight numeric sequence; however location in the file is determined by reading them in reverse order (right to left), in groups of two digits.

File area is divided into 100 equal sections (00-99) which expand and contract evenly.

File retrieval and return is distributed throughout the filing system and backshifting efforts are eliminated since old files are evenly purged.