Ultimate Computer Storage Cabinet with Fan & Thermostat - Lock Optional
Overall Dimension: 77"H x 28"D x 36"W (without casters)
6 outlet power bar
550 CFM exhaust fan that engages automatically on door closure
Manual thermostat
Secure cable entry
All steel bi-parting tambour door
(2) Fixed Shelves
(1) Roll-out keyboard shelf with retractable mouse wings
(1) Roll-out printer shelf
Optional casters, floor anchors and lock
Internal components are shipped pre-installed
Standard Finish: Beige Santex, Grey Santex and Black Santex
Stock availability and order quantities may require additional ship days
All Steel Bi-Parting Tambour Door PC Storage Cabinet with Optional Lock. Secure PC when not in use. Accessories NOT included.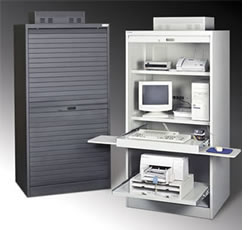 Standard Finish: Beige Santex, Grey Santex and Black Santex

Freight and inside delivery required additional quotation, please fill out Shipping Quote Form (pdf). Contact us at 1-888-891-1970 or email at sales@filingtoday.com for a quote or more information.
FOB: Tonawanda, NY 14150 - PP&ADD
Shipped Fully Assembled.