Jupiter 4 Seat Rectangular Unit with Laminate Self Edge Table & Country Chairheads
Item No. JURE004SECO
Overall Height: 36"
Overall Depth: 59"
Overall Width: 44"
Seat Height: 18"
Seat Depth: 16.25"
Seat Width: 17.25"
4 ea - Country chairheads (6100CS)
24" x 44" self edge table top (30044SE)
4 Seat Jupiter rectangular island frame (54104)
Steel chairhead with spring swivel & molded polyurethane seat
Laminate edge table top
Select table top/edge laminate & seat color
3" Radius corners - all four corners
16.5" personal space between table and chairback
Onyx Black powdercoat finish on frame
Island frame doesn't need to attached to wall
Frame requires fastening - hardware included
Assembly required
NOTE:
Specify Table Top/Edge Laminate and Seat Colors, (click colors tab above for options).
Country Chairhead with Composite Seat, Item No. 6100CS.
18 Gauge Steel Frame.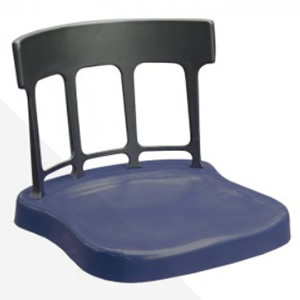 Freight and inside delivery required additional quotation, please fill out Shipping Quote Form (pdf). Contact us at 1-888-891-1970 or email at sales@filingtoday.com for a quote.
Lead Time: 3 - 5 weeks
Ships via common carrier
FOB Kenyon MN 55946