Tablet Depot™ For Tablets Storage and Security, Pedestal or Mobile Carts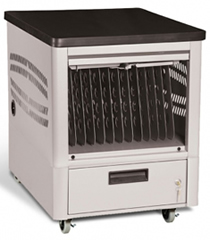 The Tablet Depot™ is designed to store, charge, and secure tablet or e-reader in one portable unit. Tablet Depot units can be mounted to a surface, placed side by side or stacked to save space. Units feature locking, recessed fold flat front and rear doors ensure maximum security, and can accommodate five, eight or ten full size tablets. Optional casters and pedestal carts provide secure storage, plus easy mobility. Power Management Dividers with multi-unit power strip charging capabilities, feature storage of up to 12 tablets while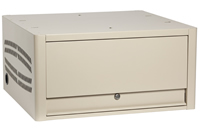 maintaining cord organization. Add a laminate top to create added workspace. It is a great storage option for small groups of tablets or other portable electronic devices in a classroom or training room setting.
1) Design - Constructed of heavy duty steel for extra strength and protection.

2) Versatile - Units can be mounted to a surface, placed side by side or stacked to save space.

3) Mobility - Wheeled drawer base versions available for easy mobility.

4) Charging - Store and charge several tablets with UL/CSA certified electrical.

5) Additional Workspace - Depots are available with laminate tops for added workspace.
| | | |
| --- | --- | --- |
| Tablet Depot add a optional laminate top for a finished look and convenient work surface | The Tablet Depot Cart is equipped with 3" or 5" casters for easy mobility throughout a building. | Tablet Depot Pedestal with 2" casters are ideal for maneuvering around a classroom or training room setting. |
---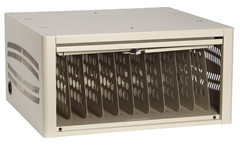 All Tablet Depots are UL/CSA Certified Electrical.
Shown left Tablet Depot with NO laminate top.
NOTE: Freight and inside delivery required additional quotation, please fill out Shipping Quote Form (pdf). Contact us at 1-888-891-1970 or email at sales@filingtoday.com for more information. Shipped F.O.B. factory, Emigsville, PA.
Item No.
Description
Width
Depth
Height
Est. Lbs.
List Price
Sale Price

TD10

Table Depot, 10 Capacity Unit, NO TOP

14"

22"

12-11/16"

30

$569.00
$370.00

TD16

Table Depot, 16 Capacity Unit, NO TOP
20

22"

12-11/16"

40
$639.00
$416.00

TD20

Table Depot, 20 Capacity Unit, NO TOP
24

22"

12-11/16"

50
$779.00
$507.00

TDP10-2

2" Nylon Wheels Tablet Depot Pedestal,
10 Capacity Unit & Laminate Top
14-3/4"
22-3/4"
23-3/4"
45
$1,050.00
$683.00
TDP16-2
2" Nylon Wheels Tablet Depot Pedestal,
16 Capacity Unit & Laminate Top
20-3/4"
22-3/4"
23-3/4"
55
$1,158.00
$753.00

TDP20-2

2" Nylon Wheels Tablet Depot Pedestal,
20 Capacity Unit & Laminate Top
24-3/4"
22-3/4"
23-3/4"
65
$1,434.00
$933.00

TDP10-3

3" Casters Tablet Depot Cart,
10 Capacity Unit & Laminate Top
14-3/4"
22-3/4"
25-1/4"
47
$1,071.00
$697.00

TDP16-3

3" Casters Tablet Depot Cart,
16 Capacity Unit & Laminate Top
20-3/4"
22-3/4"
25-1/4"
57
$1,185.00
$771.00

TDP20-3

3" Casters Tablet Depot Cart,
20 Capacity Unit & Laminate Top
24-3/4"
22-3/4"
25-1/4"
67
$1,455.00
$946.00
TDP10-5
5" Casters Tablet Depot Cart,
10 Capacity Unit & Laminate Top
14-3/4"
22-3/4"
27-1/4"
48
$1,163.00
$756.00
TDP16-5
5" Casters Tablet Depot Cart,
16 Capacity Unit & Laminate Top
20-3/4"
22-3/4"
27-1/4"
58
$1,276.00
$830.00
TDP20-5
5" Casters Tablet Depot Cart,
20 Capacity Unit & Laminate Top
24-3/4"
22-3/4"
27-1/4"
68
$1,547.00
$1,006.00