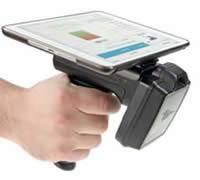 The EnaSys Express Starter Kit is designed specifically for companies seeking a RFID/barcode solution that can track computers, servers, and other IT equipment accurately and efficiently. Know where all your assets are in 1/10th of the time. Periodic inventories and audits of other high-value assets, including barcoded tape media, physical files and records, and items, such as medical devices and test equipment, are now capable of being efficiently and accurately tracked. EnaSys Express Specifications, click here.
EnaSys Express helps companies implement a full production solution and the first steps to an enterprise-wide asset-traking project.
EnaSys Express comes with a High-Performance Reader that communicates with a variety of host devices via Bluetooth wireless technology. It is designed for maintenance data logging for sensitive equipment that needs regular checking.
Among its many benefits, the system will help you to:
• Increase accountability and security
• Meet audit and compliance requirements
• Minimize insurance costs and taxes
• Improve productivity with the RFID 10x speed over manual processes
---