Vertical Filing Cabinets
Available 2, 3, 4, 5 drawer model
Available letter and legal size
Full suspension drawers feature three-member, ball-bearing suspensions
Mechanical innerlock allows only one drawer to be open at a time to help prevent tipping
Full height drawer sides are ready to accept hanging folders; no hanging folder rods required
Durable powder paint finish
Steel follower block in all drawers slide in a recessed metal track
One key unlocks all drawers at once
Locks are core-removable
Locks are keyed randomly
For keyed alike, add suffix"-KA" to model number
Click here
to download additional specifications.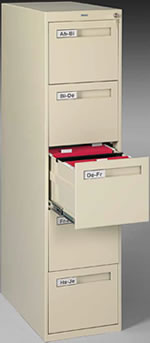 1. Durable, Attractive Finish - Choose from multiple standard powdercoated durable finishes to complement any interior environment.
2. Steel Ball Bearing Suspension - Drawers operate quietly and effortlessly with the help of a fully progressive side arm suspension.
3. Smooth Open/Close - Engineered rolled edges on all drawer tracks make opening and closing completely filled drawers almost effortless. An integral antirebound clip helps keep the door closed.
4. Secured Access - A single lock controls all drawers and doors. Hundreds of key combinations are available. Locks are core removable and are master keyed. Master keys can be ordered separately.
5. Label Holders - A recessed, full width drawer handle with clear, plastic label holders makes it easy to stay organized.
6. Sturdy Closed Base - The closed base provides extra support and prevents dust from working its way into the cabinet.
Standard Colors (No Extra Charge): Sand, Medium Grey, Light Grey, Champagne/Putty and Black.
Premium Colors (Minimum $200 Upcharge): Accent Blue, Arctic White, Dove Grey, Wine, Oyster and Green.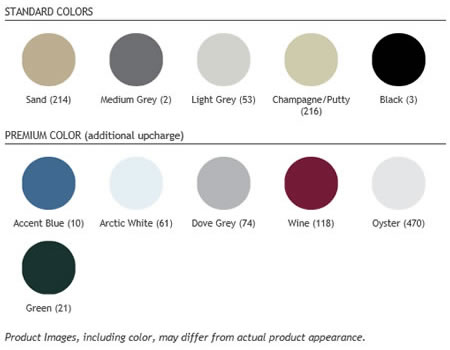 Freight and inside delivery required additional quotation, please fill out Shipping Quote Form (pdf). Contact us at 1-888-891-1970 or email at sales@filingtoday.com for quotation or more information.
National Motor Freight classification: Class 100
Freight Policy - F.O. B. Origin, Dickson, TN, PP&ADD.