Chart Divider Tabs, Medical Chart Dividers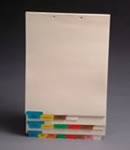 Chart dividers are designed for maximum organization within a file folder. Chart dividers provide quick and easy referencing for access to pertinent information in an efficient manner and are a great time saver. Our index sets consist of 8, 6 or 4-chart dividers with Mylar colored tabs. Tabs feature popular titles plus 1- write on blank, erasable tab designed for your specific needs. All tabs are printed with the same title on both sides and reinforced with tear proof Mylar.
Custom printed tabs are available. Click for Custom Indexes & Fileback Form (pdf).
Tab Titles
8 Tabs (1/8th cut)
6 Tabs (1/6th cut)
4 Tabs (1/4th cut)

HISTORY & PHYSICAL
PROGRESS NOTES
CORRESPONDENCE
LAB / X-RAY
HOSPITAL
INSURANCE
MISCELLANEOUS
BLANK

HISTORY & PHYSICAL
PROGRESS NOTES
LAB / X-RAY
HOSPITAL
INSURANCE
BLANK

HISTORY & PHYSICAL
PROGRESS NOTES
INSURANCE
BLANK
---

Stock Chart Divider Sets, Medical, End Tabs, 1/4th Cut (100 Sets of 4 Tabs)


Click to enlarge

Part Number: S-9211
Qty/Bx
Price
5+
10+
20+
100 sets
$79.16
$74.66
$69.71
$66.11

---

Stock Chart Divider Sets, Medical, End Tabs, 1/6th Cut (65 Sets of 6 Tabs)


Click to enlarge

Part Number: S-9207
Qty/Bx
Price
5+
10+
20+
65 sets
$78.71
$74.66
$69.71
$66.56

---

Stock Chart Divider Sets, Medical, End Tabs, 1/8th Cut (50 Sets of 8 Tabs)


Click to enlarge

Part Number: S-9205
Qty/Bx
Price
5+
10+
20+
50 sets
$80.51
$76.46
$72.41
$67.91

---

Stock Chart Divider Sets, Medical, Side Tabs, 1/6th Cut (65 Sets of 6 Tabs)


Click to enlarge

Part Number: S-9208
Qty/Bx
Price
5+
10+
20+
65 sets
$77.36
$73.76
$68.81
$65.21

---

Stock Chart Divider Sets, Medical, Side Tabs, 1/8th Cut (50 Sets of 8 Tabs)


Click to enlarge

Part Number: S-9206
Qty/Bx
Price
5+
10+
20+
50 sets
$85.91
$80.51
$76.01
$72.41

---

Stock Chart Divider Sets, Medical, Side Tabs, 1/4th Cut (100 Sets of 4 Tabs)

Part Number: S-9212
Qty/Bx
Price
5+
10+
20+
100 sets
$75.56
$71.06
$67.01
$63.86