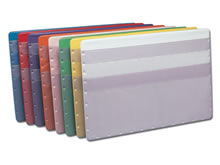 Standard Radiology Film Carriers
Features a welded rivet design, double layers of material at the top of the pockets and a heavy-duty die-cut board to add to the overall strength. The 9 and 13 inch high suede-clear vinyl pockets are welded to the color-coded vinyl back.
Specify Colors: Red, Orange, Yellow, Green, Blue, Pink & Purple.
Quantity/Pack: 10