Mobile File Cart - Unit SpaceFinder Mobile File Trucks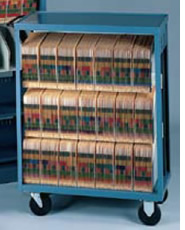 Multi-purpose Mobile File Carts - File Trucks
Heavy-duty SpaceFinder File Trucks available in letter and legal files depth. File truck allows you to find and re-file easily visible records faster. Allows for plain view record identification. Multiple users can access files simultaneously.
Caster types available 2 fixed & 2 swivel or 4 swivel. File trucks ideal for transporting files between large offices and departments. Open filing solutions.
Specifications
Colors
Shipping
SpaceFinder Mobile File Trucks - Mobile File Cart
8 models available
Available letter depth, legal depth, general purpose or media filing
Casters: Available 2 fixed & 2 swivel or 4 swivel
Specify Standard Paint Color (pdf)
Freight and inside delivery required additional quotation, please fill out Shipping Quote Form (pdf). Contact us at 1-888-891-1970 or email at sales@filingtoday.com for more information.
F.O. B. Origin, PP&ADD.
| | | | | | |
| --- | --- | --- | --- | --- | --- |
| Item No. | Description | Caster Types | Est. Lbs. | List Price | Sale Price |
| 1850 | General Purpose File Truck, 2 Fixed & 2 Swivel Casters | 2 Fixed, 2 Swivel | 82 | $1,080.00 | $810.00 |
| 1851 | General Purpose File Truck, 4 Swivel Casters | 4 Swivel | 82 | $1,093.00 | $820.00 |
| 1870 | Letter Depth SpaceFinder File Truck, 2 Fixed & 2 Swivel Casters | 2 Fixed, 2 Swivel | 97 | $1,178.00 | $884.00 |
| 1871 | Letter Depth SpaceFinder File Truck, 4 Swivel Casters | 4 Swivel | 98 | $1,188.00 | $891.00 |
| 1872 | Legal Depth SpaceFinder File Truck, 2 Fixed & 2 Swivel Casters | 2 Fixed, 2 Swivel | 104 | $1,151.00 | $864.00 |
| 1873 | Legal Depth SpaceFinder File Truck, 4 Swivel Casters | 4 Swivel | 105 | $1,158.00 | $869.00 |
| 1874 | Media Truck, Letter Depth, 2 Fixed & 2 Swivel Casters | 2 Fixed, 2 Swivel | 86 | $1,321.00 | $991.00 |
| 1875 | Media Truck, Letter Depth, 4 Swivel Casters | 4 Swivel | 87 | $1,331.00 | $999.00 |