Binders and Multimedia Storage Carousel - 32" Diameter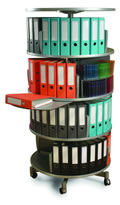 32" Diameter Binders Carousel. The circular Binder Carousel provides all-around, speedy access to your important files. Each tier rotates independently, so multiple users can locate documents at the same time. Easily fits through most doorways.
The slim 32" profile saves valuable floor space and offers abundant storage in a small area. Hold up to 168 (3 inch spine) binders in the same compact space with a 6-Tier Binder Carousel. Compared to traditional angled shelving, Binder Carousels store more binders in half the space. Perfect for offices, secretarial stations, file rooms or anywhere floor space is at a premium.
Accessories not included. In stock item and typically ship 48 hours after receipt of order.
Specifications
Images
Colors
Assembly
Shipping
Binder Carousel - 32" Diameter
Available in Desktop (1-tier), 2, 3, 4, 5 & 6-tiers
Standard with NO WorkTop, except Desktop model
Each tier holds up to 40 (2" spine) or 28 (3" spine) binders
Each tier rotate independently
Tiers are adjustable to hold letter or legal size binders
Extension Kit available to add one level to 2, 3, 4 or 5-tier models, max recommended height to 6 tier
Optional Top Shelf, Pull-Out Shelf, CDs Holder, Organizer Set
Optional Casters provide flexible mobility (Not recommended for 5 or 6-tier models)
In stock item and typically ship 48 hours after receipt of order
Available Color: White Only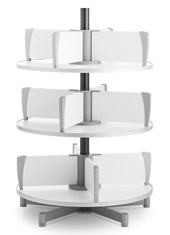 Shipping require additional quotation. Please contact us at 1-888-891-1970 or email at sales@filingtoday.com for a quote or additional information.
Shipped in multiple cartons via UPS and light assembly is required at the point of intended use.
F.O.B. Amherst, MA.
Except Desktop model, standard model with NO WorkTop (optional #CLS-80).
Item No.
Old #
Description
H x W x D
Est. Lbs.
List Price
Sale Price
DCL-80
488401
Desktop Binder Carousel with WorkTop
17" x 32" x 32"
60
$555.00
$472.00
CL2-80
480402
2-Tier Binder Carousel with Floor Base
33" x 32" x 32"
67
$681.00
$579.00
CL3-80
480403
3-Tier Binder Carousel with Floor Base
47" x 32" x 32"
95
$910.00
$773.00
CL4-80
480404
4-Tier Binder Carousel with Floor Base
61" x 32" x 32"
120
$1,142.00
$971.00
CL5-80
480405
5-Tier Binder Carousel with Floor Base
75" x 32" x 32"
150
$1,358.00
$1,154.00
CL6-80
480406
6-Tier Binder Carousel with Floor Base
89" x 32" x 32"
185
$1,578.00
$1,341.00
CLC-80
441050
Set of 5 Non-locking Casters (optional)
2" x 32" x 32"
5
$111.00
$100.00
CLOS
441450
Organizer Set (optional)
8" x 12" x 10"
15
$132.00
$119.00
CLCD
441500
CD Holder Organizer Set (optional)
8" x 12" x 10"
5
$119.00
$108.00
CLK-80
488411
1-Tier Expansion Kit & Pole (optional)
14" x 32" x 32"
33
$333.00
$300.00
CLS-80
488412
WorkTop (optional)
2" x 32" x 32"
25
$196.00
$177.00
CLPS
488416
Pull-out Workshelf (optional)
1" x 18" x 30"
14
$239.00
$215.00
#CLK-80
1-Tier Expansion Kit

#CLOS
Organizer Set, (Set of 4)
Keeps files neat and upright.

#CLPS

Pull-out Shelf

#CLC-80
Set of 5 Non-locking Casters
Not recommended for 5 or 6-tiers

#CLCD
CD Holder

#CLCD
Organizer CDs and keeps them upright.

#DCL-80
Desktop Carousel
(binders not included)

#CL2-80
2-Tier

#CL3-80
3-Tier

#CL4-80
4-Tier

#CL5-80
5-Tier

#CL6-80
6-Tier