Multimedia Carousels - 32" Diamater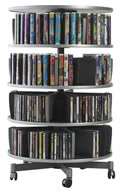 High Density Media Storage in a Compact Space. This multimedia carousel is perfect for libraries, media centers, schools and offices, the circular Multimedia Carousel houses a huge collection of DVDS, CDs, magazines and books in just 32 inches of floor space. The open design allows for all-around access, and each shelf tier rotates independently so multiple users can access media at the same time. The tiers adjust in increments to accommodate all sizes of media. Shelf tiers are made from wood with an attractive gray laminate finish and turn on a sturdy steel base. Organizer Sets divide each tier into twenty smaller sections to keep media in order.
Easy access to DVDs, VHS Tapes, books, magazines and more!
Two models to choose from: 4-Tier or 7-Tier Multimedia Carousel

Each tier includes an Organizer Set to divide the tier into twenty smaller sections for media.

Store up to 96 DVDs, 128 CDs or 64 VHS tapes per tier.

Tiers rotate independently for simultaneous access by multiple users.

Tiers are adjustable to accommodate various media.
| | |
| --- | --- |
| Casters add mobility to carousels up to 4 units high. Not recommended for taller units. | Organizer Set keeps binders, books, DVDs, videotapes and files upright and neat. (Set of 4) |
---
4-Tier Multimedia Carousel 32" in diameter

4-tier mixed media carousel with organizer sets, casters and worktop included. This 4-Tier unit rolls for easy mobility and has a slender 32" width that fits through most doorways. Color: Graphite

| | | | | | |
| --- | --- | --- | --- | --- | --- |
| Item No. | Old No. | H x W x D | Est. Lbs. | List Price | Sale Price |
| MMCL40 | 468400 | 49" x 32" x 32" | 160 | $1,859.00 | $1,673.00 |

| | |
| --- | --- |
| • | In stock item and typically ship 48 hours after receipt of order. |
| • | F.O.B. Amherst, MA. Please contact us at 1-888-891-1970 or email at sales@filingtoday.com for more information. |
| • | Rotary Binders are shipped in multiple cartons via UPS and light assembly is required at the point of intended use. |
---
7-Tier Multimedia Carousel 32" in diameter

7-tier mixed-media carousel with organizer sets and worktop included. This 7-Tier Unit holds 672 DVDs in just a 32" width. Color: Graphite

Item No.
Old No.
H x W x D
Est. Lbs.
List Price
Sale Price
MMCL70
468700
76" x 32" x 32"
220
$2,750.00
$2,475.

0

0

| | |
| --- | --- |
| • | In stock item and typically ship 48 hours after receipt of order. |
| • | F.O.B. Amherst, MA. Please contact us at 1-888-891-1970 or email at sales@filingtoday.com for more information. |
| • | Rotary Binders are shipped in multiple cartons via UPS and light assembly is required at the point of intended use. |