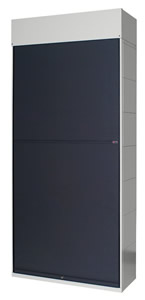 Ease of Installation: Our stationary shelving features pre-punched holes for easy TambourDoor™ installation. Additionally, the unit mounts on the front of the shelving unit, making it easy to install multiple units on a run of shelving.
Compatibility: Our TambourDoor™ units are compatible with all lines of 4Post™, ThinStak® and Vu-Stak® Shelving. Contact us for inquiries into compatibility with other shelving systems. TambourDoor™ units are also available in a variety of widths to match your existing shelving.
Durability: Our TambourDoor™ unit attaches to the shelving unit with brackets and screws, not double-faced tape like some other units. TambourDoor™ units are covered by a lifetime warranty.
• View Literature

• View Assembly Instructions