Vu-Stak® Stackable Shelving Tiers
Sloped and Straight Tiers Shelving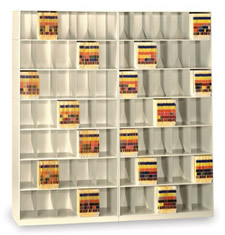 Vu-Stak® Filing System provides the solution to your open shelf filing needs allowing for the most efficient use of your valuable floor space.
Designed to be used in conjunction with color coded side tab folders, all Vu-Stak® tiers come with fixed welded dividers and a sleek profile, making it an ideal choice for Letter, Legal, and X-Ray file storage. Tiers can be configured up to 6 levels high for X-Ray file jacket storage, and up to 8 levels high for letter and legal document storage. View Specifications.
All Vu-Stak® tiers are easy to assemble and can be expanded or reconfigured at any time. View Assembly Instructions.
Organization: Full height dividers keep your files neat and upright. Dividers are welded to the shelf, preventing torn folders or fingers.
Reduce Errors: Vu–Stak® Slant tiers offer greater end tab visibility, resulting in reduced filing errors.
Two Vu-Stak Design Available. All Vu-Stak® tiers are available in 3 widths, 24", 36" and 48". This flexibility allows you to combine various widths to maximize your storage area.
Fixed Welded Divider
All Vu-Stak® tiers come with our exclusive fixed divider which is welded to the back and underside of each shelf. This design results in a smooth surface for protection against torn folders and ease of filing.
Vu-Stak® posting shelves are available for both straight and slant tiers to provide a fully retractable convenient work surface. Utilize spacers to create even height shelves with aesthetic look.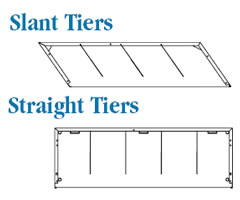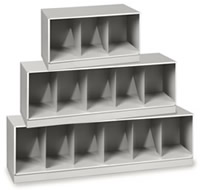 ---
| | |
| --- | --- |
| Vu-Stak® Slant Tiers' unique modular design combined with a 55º angled shelf result in increased file recognition and visibility for error free filing and faster retrieval. Slant tiers are only available in letter and legal size depth. View Prices. | Vu-Stak® Straight Tiers allow individual shelves to be stacked up to eight levels, creating custom solutions to unique storage needs. Additional shelves can be added at any time for greater expandability. Available in X-Ray, Letter, and Legal. View Prices. |