Storage Shelving Unit For Automotive Parts, Bin Boxes Organize Shelving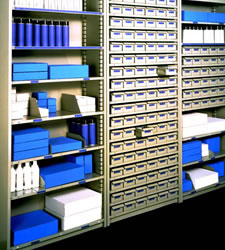 Automotive Parts Storage Shelving is a highly versatile system for efficiently storing and organizing automotive parts. Shelving system can be easily modified as your needs change and grow, since old components can be reconfigured and new ones added. In no time at all you can eliminate cluttered aisles, gain valuable floor space, and enjoy an orderly storage system tailored to fit your needs.
The shelves are adjustable on 1-1/2" centers without the need for tools, clips or any hardware. Shelving units can be customized with optional adjustable dividers to create individual spaces, or use handy bin boxes for small or loose parts. Sections of shelving neatly tie together with solid end panels for a smooth finished appearance.
All units are constructed of medium-gauge rolled steel and come standard with full-height backs to provide extra strength. End panels are bolted together either side-by-side or back-to-back for added sturdiness. The slide-in shelf and one-piece base and bottom shelf make assembly simple. And to give the units a clean, sleek look, we've designed solid piece decorative end panels that cover the uprights. All shelving is painted with a tough, long lasting, epoxy powder finish to ensure years of rugged use. View available colors.
| | | | |
| --- | --- | --- | --- |
| Three sizes of shelf divider available and is fully adjustable horizontally and comes standard with a label holder. All edges are rounded, so they won't snag or tear merchandise. | Decorative solid end panels fit flush against upright, adding strength to the unit and creating a smooth, finished appearance. | Full-width shelf edge label holders take only an instant to snap on Place your labels anywhere on the holder. | Shelves slide in easily from the front and feature a safety catch keeping them firmly in place. Easily adjusted every 1-1/2", with no need of bolts or clips. |
---
Units include back but no end panels. Order end panels seperately to provide flush finished ends for row. Standard colors: Sand, Medium Grey, Light Grey. View available colors.
Item No.
Description
Overall Dimension
Est. Lbs.
List Price
Sale Price
Width
Depth
Height
P-S84
Empty Interior, Automotive Shelving Unit
38"
12"
84"
78
$244.00
$183.00
P-8401
6 Shelves, Automotive Shelving Unit
38"
12"
84"
114
$340.00
$255.00
P-8411
12 Shelves, Automotive Shelving Unit
38"
12"
84"
150
$436.00
$327.00
P-8417
108 Bin Boxes, Automotive Shelving Unit
38"
12"
84"
396
$2,892.00
$2,169.00
NOTE: Freight and inside delivery required additional quotation. Please contact us at 1-888-891-1970 or email at sales@filingtoday.com for more information.
---
Uprights (Price shown in Pairs)

| | | | | | | |
| --- | --- | --- | --- | --- | --- | --- |
| Item No. | Description | Width | Depth | Height | Est. Lbs. | Price |
| P-1242 | 42"H Uprights (Pairs) | 15/16" | 12" | 42" | 16 | $122.00 |
| P-1284 | 84"H Uprights (Pairs) | 15/16" | 12" | 84" | 32 | $204.00 |
| P-1296 | 96"H Uprights (Pairs) | 15/16" | 12" | 96" | 36 | $226.00 |
---
End panels (Price shown in Pairs)

| | | | | | | |
| --- | --- | --- | --- | --- | --- | --- |
| Item No. | Description | Width | Depth | Height | Est. Lbs. | Price |
| P-42E | 42"H End Panels (Pairs) | 1-1/16" | 12-3/32" | 42" | 11 | $60.00 |
| P-84E | 84"H End Panels (Pairs) | 1-1/16" | 12-3/32" | 84" | 22 | $120.00 |
| P-96E | 96"H End Panels (Pairs) | 1-1/16" | 12-3/32" | 96" | 25 | $144.00 |
---
Back Panel - When placing units back to back (as in a double-face application), units may share a common back.

| | | | | | | |
| --- | --- | --- | --- | --- | --- | --- |
| Item No. | Description | Width | Depth | Height | Est. Lbs. | Price |
| P-3842 | 42"H Back Panel | 37-3/4" | 12" | 42" | 17.3 | $51.00 |
| P-3884 | 84"H Back Panel | 37-3/4" | 12" | 84" | 33.0 | $93.00 |
| P-3896 | 96"H Back Panel | 37-3/4" | 12" | 96" | 38.0 | $108.00 |
---
Bin Boxes & Dividers

| | | | | | | |
| --- | --- | --- | --- | --- | --- | --- |
| Item No. | Description | Width | Depth | Height | Est. Lbs. | Price |
| P-55 | Bin Box | 5-1/2" | 12" | 3-1/4" | 2.0 | $22.00 |
| P-55D | Bin Box Divider | 5-3/16" | 1/32" | 2-9/16" | 0.1 | $1.20 |
---
Dividers

| | | | | | | |
| --- | --- | --- | --- | --- | --- | --- |
| Item No. | Description | Width | Depth | Height | Est. Lbs. | Price |
| P-30 | 3"H Divider | 3" | 12" | 3" | 0.7 | $7.30 |
| P-45 | 4.5"H Divider | 3" | 12" | 4-1/2" | 0.9 | $7.80 |
| P-60 | 6"H Divider | 3" | 12" | 6" | 1.0 | $7.70 |
---
Tops, Bottoms, Shelves

| | | | | | | |
| --- | --- | --- | --- | --- | --- | --- |
| Item No. | Description | Width | Depth | Height | Est. Lbs. | Price |
| P-1238 | Top | 37-7/8" | 12-1/8" | 1-1/8" | 6.3 | $24.00 |
| P-12B | Bottom | 36" | 11-7/8" | 3-1/16" | 7.0 | $25.00 |
| P-12 | Shelf | 35-7/8" | 11-7/8" | 7/8" | 6.0 | $16.00 |
---
Label Holders

| | | | | | | |
| --- | --- | --- | --- | --- | --- | --- |
| Item No. | Description | Width | Depth | Height | Est. Lbs. | Price |
| P-3 | Short width - use between dividers | 3" | - | 3/4" | 0.02 | $0.74 |
| P-38 | Full shelf width | 35-1/2" | 11/64" | 7/8" | 0.3 | $2.30 |
| P-38F | Fastener for full shelf width holders | - | - | - | 0.1 | $0.11 |
---