Logic® Systems Storage Shelving
Logic Shelving will be discontinued effective 7-31-17.
All POs must be received, manufactured, and shipped by that date.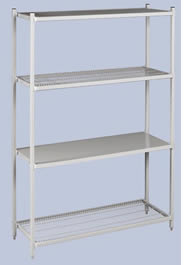 Logic Systems Shelving with its patented Logic Clip, shelves can be easily added or removed without disturbing other levels of the unit. Logic Systems Shelving does not use "S" hooks to support adjacent shelves, so adjacent shelves can be set at different heights while still sharing the same post. Such flexibility allows you to interchange wire and solid shelves easily whenever your storage needs demand it.
Available with a full line of accessories, Logic Systems Shelving is especially well suited for Food Service, Healthcare, or Industrial storage applications where a modern, sanitary appearance is critical.Custom solutions available please fill out Layout Request Form.


Shelves can be easily added or removed without disturbing other levels of the unit. This flexibility allows the interchangeability of wire and solid shelves whenever your needs change.

Shelves adjust easily at 3" increments without the use of special tools or time-consuming hardware. The unique Logic Clip allows you to add more shelves without removing or changing other shelf levels. Matching adjacent shelf levels is a snap as well because Logic clips allow you to fasten shelves securely at the same height.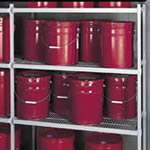 Logic shelving features heavy 12 gauge channel frame construction, wire matte, welded retaining clips, and all metal connections can handle loads up to 1,000 lbs. Shelves are available in widths are 36, 42, 48, 54, 60 and 72 inches. Available depths are 18, 21, 24 inches to accomodate almost all situations.
| | | |
| --- | --- | --- |
| WIRE SHELVES | | CREATE-YOUR-OWN |
| SOLID SHELVES | SOLID SHELVES | |
---
Easy Reconfiguration

Unique design permits unlimited freedom of
reconfiguration, including 90 degree add-on for maximum flexibility. Logic shelving offers the ability to add, remove or reposition shelves without disturbing other levels.

Sanitary and easy to clean

Logic® shelving is NSF approved for the food industry. It's open wire shelf design minimizes dust collection and permits air circulation, providing full visibility to stored items.

Health Care

Logic Systems Shelving is the solution for the Healthcare industry. Broad finish selection stands up to harsh disinfectants or steam cleaning. And Logic Systems Shelving is NSF listed.

Food Services

When it comes to displaying, storing, or transporting a wide variety of food service items, wet, dry, or refrigerated. Logic Systems Shelving is the logical choice for providing a sanitary and rust-free environment.

Electronics

Its adjustable grid-style shelves allow air to circulate around equipment, keeping it cooler and thereby extending its life. And best of all, Logic components can be easily custom tailored to your equipment for optimum use of space.

Industrial


Logic Systems Shelving is able to meet the changing storage needs of today's industry without requiring time-consuming disassembly or specialized tools. Available finishes let you store even hazardous materials safely.