Essentials Laminate Bookcase Series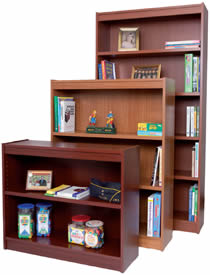 Our Eessentials Laminate Bookcases Series are must have items in today's offce and home office environment. Contemporary square edge styling, solid construction, and durable laminate/melamine finish will guarantee the essentials laminate bookcases will be an indispensable part of any office, school, or home office. Great value and stylish.
All bookcases measure 36" wide x 12" deep x 3/4" thick panels. Six standard heights (30", 36", 48", 60, 72", and 84" high). Choice of 80 lbs or 120 lbs shelf capacity shelves. Professional grade construction, ready to assemble.
Bookcases feature high quality, scratch resistant laminate surfaces with matching back panel, suitable for use as a room divider. 1" adjustable shelves with 3/4" sides, top, and bottoms. 1" thick adjustable shelves are standard equipment (80 lb. capacity), with the option of 1" reinforced shelves (120 lb. capacity per shelf).
Available in three laminate colors: mahogany, medium oak and Cherry laminate.

---
2 Shelf Openings Bookcase - 30" High (Click to view)
Dimension: 36" Wide x 30" High x 12" Deep
• Selected Mahogany, Medium oak and Cherry Laminate
• Furniture Finished Back
• 1" adjustable shelves with 3/4" sides, top, and bottoms
• Choice of 80 lbs or 120 lbs Shelf Capacity Shelves
• Shipped KD, F.O.B. Ewing, N.J. 08638
| | | | |
| --- | --- | --- | --- |
| Item No. | Finishes/Description | Est. Lbs. | Sale Price |
| 7801MH | Mahogany Laminate, 2 Shelf Openings, 36"W x 30"H x 12"D (80 lbs. Shelf) | 49 | $110.00 |
| 7801MO | Medium Oak Laminate, 2 Shelf Openings, 36"W x 30"H x 12"D (80 lbs. Shelf) | 49 | $110.00 |
| 7801CH | Cherry Laminate, 2 Shelf Openings, 36"W x 30"H x 12"D (80 lbs. Shelf) | 49 | $110.00 |
| 7801RS | Reinforced Shelves, 2 Shelf Openings, 36"W x 30"H x 12"D (120 lbs. Shelf) | 49 | $127.00 |
---
2 Shelf Openings Bookcase - 36" High (Click to view)
Dimension: 36" Wide x 36" High x 12" Deep
• Selected Mahogany, Medium oak and Cherry Laminate
• Furniture Finished Back
• 1" adjustable shelves with 3/4" sides, top, and bottoms
• Choice of 80 lbs or 120 lbs Shelf Capacity Shelves
• Shipped KD, F.O.B. Ewing, N.J. 08638
| | | | |
| --- | --- | --- | --- |
| Item No. | Finishes/Description | Est. Lbs. | Sale Price |
| 7802MH | Mahogany Laminate, 2 Shelf Openings, 36"W x 36"H x 12"D (80 lbs. Shelf) | 60 | $136.00 |
| 7802MO | Medium Oak Laminate, 2 Shelf Openings, 36"W x 36"H x 12"D (80 lbs. Shelf) | 60 | $136.00 |
| 7802CH | Cherry Laminate, 2 Shelf Openings, 36"W x 36"H x 12"D (80 lbs. Shelf) | 60 | $136.00 |
| 7802RS | Reinforced Shelves, 2 Shelf Openings, 36"W x 36"H x 12"D (120 lbs. Shelf) | 60 | $155.00 |
---
3 Shelf Openings Bookcase - 48" High (Click to view)
Dimension: 36" Wide x 48" High x 12" Deep
• Selected Mahogany, Medium oak and Cherry Laminate
• Furniture Finished Back
• 1" adjustable shelves with 3/4" sides, top, and bottoms
• Choice of 80 lbs or 120 lbs Shelf Capacity Shelves
• Shipped KD, F.O.B. Ewing, N.J. 08638
| | | | |
| --- | --- | --- | --- |
| Item No. | Finishes/Description | Est. Lbs. | Sale Price |
| 7803MH | Mahogany Laminate, 3 Shelf Openings, 36"W x 48"H x 12"D (80 lbs. Shelf) | 72 | $162.00 |
| 7803MO | Medium Oak Laminate, 3 Shelf Openings, 36"W x 48"H x 12"D (80 lbs. Shelf) | 72 | $162.00 |
| 7803CH | Cherry Laminate, 3 Shelf Openings, 36"W x 48"H x 12"D (80 lbs. Shelf) | 72 | $162.00 |
| 7803RS | Reinforced Shelves, 3 Shelf Openings, 36"W x 48"H x 12"D (120 lbs. Shelf) | 72 | $195.00 |
---
4 Shelf Openings Bookcase - 60" High (Click to view)
Dimension: 36" Wide x 60" High x 12" Deep
• Selected Mahogany, Medium oak and Cherry Laminate
• Furniture Finished Back
• 1" adjustable shelves with 3/4" sides, top, and bottoms
• Choice of 80 lbs or 120 lbs Shelf Capacity Shelves
• Shipped KD, F.O.B. Ewing, N.J. 08638
| | | | |
| --- | --- | --- | --- |
| Item No. | Finishes/Description | Est. Lbs. | Sale Price |
| 7804MH | Mahogany Laminate, 4 Shelf Openings, 36"W x 60"H x 12"D (80 lbs. Shelf) | 82 | $200.00 |
| 7804MO | Medium Oak Laminate, 4 Shelf Openings, 36"W x 60"H x 12"D (80 lbs. Shelf) | 82 | $200.00 |
| 7804CH | Cherry Laminate, 4 Shelf Openings, 36"W x 60"H x 12"D (80 lbs. Shelf) | 82 | $200.00 |
| 7804RS | Reinforced Shelves, 4 Shelf Openings, 36"W x 60"H x 12"D (120 lbs. Shelf) | 82 | $251.00 |
---
5 Shelf Openings Bookcase - 72" High (Click to view)
Dimension: 36" Wide x 72" High x 12" Deep
• Selected Mahogany, Medium oak and Cherry Laminate
• Furniture Finished Back
• 1" adjustable shelves with 3/4" sides, top, and bottoms
• Choice of 80 lbs or 120 lbs Shelf Capacity Shelves
• Shipped KD, F.O.B. Ewing, N.J. 08638
| | | | |
| --- | --- | --- | --- |
| Item No. | Finishes/Description | Est. Lbs. | Sale Price |
| 7805MH | Mahogany Laminate, 5 Shelf Openings, 36"W x 72"H x 12"D (80 lbs. Shelf) | 94 | $221.00 |
| 7805MO | Medium Oak Laminate, 5 Shelf Openings, 36"W x 72"H x 12"D (80 lbs. Shelf) | 94 | $221.00 |
| 7805CH | Cherry Laminate, 5 Shelf Openings, 36"W x 72"H x 12"D (80 lbs. Shelf) | 94 | $221.00 |
| 7805RS | Reinforced Shelves, 5 Shelf Openings, 36"W x 72"H x 12"D (120 lbs. Shelf) | 94 | $289.00 |
---
6 Shelf Openings Bookcase - 84" High (Click to view)
Dimension: 36" Wide x 84" High x 12" Deep
• Selected Mahogany, Medium oak and Cherry Laminate
• Furniture Finished Back
• 1" adjustable shelves with 3/4" sides, top, and bottoms
• Choice of 80 lbs or 120 lbs Shelf Capacity Shelves
• Shipped KD, F.O.B. Ewing, N.J. 08638
| | | | |
| --- | --- | --- | --- |
| Item No. | Finishes/Description | Est. Lbs. | Sale Price |
| 7806MH | Mahogany Laminate, 6 Shelf Openings, 36"W x 84"H x 12"D (80 lbs. Shelf) | 112 | $249.00 |
| 7806MO | Medium Oak Laminate, 6 Shelf Openings, 36"W x 84"H x 12"D (80 lbs. Shelf) | 112 | $249.00 |
| 7806CH | Cherry Laminate, 6 Shelf Openings, 36"W x 84"H x 12"D (80 lbs. Shelf) | 112 | $249.00 |
| 7806RS | Reinforced Shelves, 6 Shelf Openings, 36"W x 84"H x 12"D (120 lbs. Shelf) | 112 | $334.00 |