Excalibur Heavy Duty Capacity Series Bookcases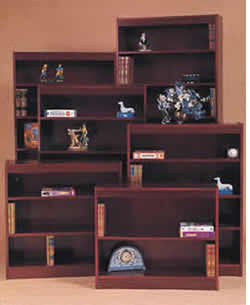 Excalibur Series Bookcases, extra heavy-duty capacity. Because at 150 lbs. capacity per shelf, Excalibur is the incomparable standard in shelving for bookcases. Old World Craftsmanship - combined with modern technology. Nothing else is stronger or more beautiful. GENUINE WOOD VENEERS.
Available in five (5) genuine wood finishes: Mahogany, California Medium Oak, Natural Oak, Walnut and Medium Cherry.
• All Excalibur Series Bookcases are 36" Wide x 12" Deep.
• 6 standard heights: 30", 36", 48", 60", 72", and 84".
• Shelves 3/4" lumbercore or steel reinforced.
• 150 lbs capacity.

• Shipped KD, F.O.B. Ewing, N.J. 08638.
• CUSTOM SIZES AND FINISHES AVAILABLE: ASK FOR QUOTE.
Available in 5 Genuine Wood Veneers Finishes:
COLOR SHADES MAY VARY SOMEWHAT BECAUSE PRODUCTS ARE CRAFTED IN GENUINE WOOD.
Mahogany
(MH)

California Medium Oak
(COB)

Natural Oak
(OB)

Walnut
(WB)

Medium Cherry
(MC)
---
2 Shelf Openings Bookcase - 30" High

Dimension: 36" Wide x 30" High x 12" Deep

Selected Genuine Oak, Walnut, Mahogany & Medium Cherry Veneers.

2 shelf openings, 1" centers on all adjustable shelves.

Furniture Finished Back.

Shelves 3/4" lumbercore or steel reinforced. Capacity 150 lbs.*

Shipped KD, F.O.B. Ewing, N.J. 08638.

*Guaranteed not to deflect more than 3/16" on center under full load
| | | | |
| --- | --- | --- | --- |
| Item No. | Finishes/Description | Est. Lbs. | Sale Price |
| EXC 30" MH | Mahogany, 2 Shelf Openings, 36" W x 30" H x 12" D | 47 | $181.00 |
| EXC 30" COB | California Medium Oak, 2 Shelf Openings, 36" W x 30" H x 12" D | 47 | $181.00 |
| EXC 30" OB | Natural Oak, 2 Shelf Openings, 36" W x 30" H x 12" D | 47 | $181.00 |
| EXC 30" WB | Walnut, 2 Shelf Openings, 36" W x 30" H x 12" D | 47 | $181.00 |
| EXC 30" MC | Medium Cherry, 2 Shelf Openings, 36" W x 30" H x 12" D | 47 | $181.00 |
---
2 Shelf Openings Bookcase - 36" High

Dimension: 36" Wide x 36" High x 12" Deep

Selected Genuine Oak, Walnut, Mahogany & Medium Cherry Veneers.

2 shelf openings, 1" centers on all adjustable shelves.

Furniture Finished Back.

Shelves 3/4" lumbercore or steel reinforced. Capacity 150 lbs.*

Shipped KD, F.O.B. Ewing, N.J. 08638.

*Guaranteed not to deflect more than 3/16" on center under full load
| | | | |
| --- | --- | --- | --- |
| Item No. | Finishes/Description | Est. Lbs. | Sale Price |
| EXC 36" MH | Mahogany, 2 Shelf Openings, 36" x 36" H x 12" D | 59 | $228.00 |
| EXC 36" COB | California Medium Oak, 2 Shelf Openings, 36" x 36" H x 12" D | 59 | $228.00 |
| EXC 36" OB | Natural Oak, 2 Shelf Openings, 36" x 36" H x 12" D | 59 | $228.00 |
| EXC 36" WB | Walnut, 2 Shelf Openings, 36" x 36" H x 12" D | 59 | $228.00 |
| EXC 36" MC | Medium Cherry, 2 Shelf Openings, 36" x 36" H x 12" D | 59 | $228.00 |
---
3 Shelf Openings Bookcase - 48" High

Dimension: 36" Wide x 48" High x 12" Deep

Selected Genuine Oak, Walnut, Mahogany & Medium Cherry Veneers.

3 shelf openings, 1" centers on all adjustable shelves.

Furniture Finished Back.

Shelves 3/4" lumbercore or steel reinforced. Capacity 150 lbs.*

Shipped KD, F.O.B. Ewing, N.J. 08638.

*Guaranteed not to deflect more than 3/16" on center under full load
| | | | |
| --- | --- | --- | --- |
| Item No. | Finishes/Description | Est. Lbs. | Sale Price |
| EXC 48" MH | Mahogany, 3 Shelf Openings, 36" W x 48" H x 12" D | 70 | $283.00 |
| EXC 48" COB | California Medium Oak, 3 Shelf Openings, 36" W x 48" H x 12" D | 70 | $283.00 |
| EXC 48" OB | Natural Oak, 3 Shelf Openings, 36" W x 48" H x 12" D | 70 | $283.00 |
| EXC 48" WB | Walnut, 3 Shelf Openings, 36" W x 48" H x 12" D | 70 | $283.00 |
| EXC 48" MC | Medium Cherry, 3 Shelf Openings, 36" W x 48" H x 12" D | 70 | $283.00 |
---
4 Shelf Openings Bookcase - 60" High

Dimension: 36" Wide x 60" High x 12" Deep

Selected Genuine Oak, Walnut, Mahogany & Medium Cherry Veneers.

4 shelf openings, 1" centers on all adjustable shelves.

Furniture Finished Back.

Shelves 3/4" lumbercore or steel reinforced. Capacity 150 lbs.*

Shipped KD, F.O.B. Ewing, N.J. 08638.

*Guaranteed not to deflect more than 3/16" on center under full load
| | | | |
| --- | --- | --- | --- |
| Item No. | Finishes/Description | Est. Lbs. | Sale Price |
| EXC 60" MH | Mahogany, 4 Shelf Openings, 36" W x 60" H x 12" D | 79 | $341.00 |
| EXC 60" COB | California Medium Oak, 4 Shelf Openings, 36" W x 60" H x 12" D | 79 | $341.00 |
| EXC 60" OB | Natural Oak, 4 Shelf Openings, 36" W x 60" H x 12" D | 79 | $341.00 |
| EXC 60" WB | Walnut, 4 Shelf Openings, 36" W x 60" H x 12" D | 79 | $341.00 |
| EXC 60" MC | Medium Cherry, 4 Shelf Openings, 36" W x 60" H x 12" D | 79 | $341.00 |
---
5 Shelf Openings Bookcase - 72" High

Dimension: 36" Wide x 72" High x 12" Deep

Selected Genuine Oak, Walnut, Mahogany & Medium Cherry Veneers.

5 shelf openings, 1" centers on all adjustable shelves.

Furniture Finished Back.

Shelves 3/4" lumbercore or steel reinforced. Capacity 150 lbs.*

Shipped KD, F.O.B. Ewing, N.J. 08638.

*Guaranteed not to deflect more than 3/16" on center under full load
| | | | |
| --- | --- | --- | --- |
| Item No. | Finishes/Description | Est. Lbs. | Sale Price |
| EXC 72" MH | Mahogany, 5 Shelf Openings, 36" W x 72" H x 12" D | 90 | $390.00 |
| EXC 72" COB | California Medium Oak, 5 Shelf Openings, 36" W x 72" H x 12" D | 90 | $390.00 |
| EXC 72" OB | Natural Oak, 5 Shelf Openings, 36" W x 72" H x 12" D | 90 | $390.00 |
| EXC 72" WB | Walnut, 5 Shelf Openings, 36" W x 72" H x 12" D | 90 | $390.00 |
| EXC 72" MC | Medium Cherry, 5 Shelf Openings, 36" W x 72" H x 12" D | 90 | $390.00 |
---
6 Shelf Openings Bookcase - 84" High

Dimension: 36" Wide x 84" High x 12" Deep

Selected Genuine Oak, Walnut, Mahogany & Medium Cherry Veneers.

6 shelf openings, 1" centers on all adjustable shelves.

Furniture Finished Back.

Shelves 3/4" lumbercore or steel reinforced. Capacity 150 lbs.*

Shipped KD, F.O.B. Ewing, N.J. 08638.

*Guaranteed not to deflect more than 3/16" on center under full load
| | | | |
| --- | --- | --- | --- |
| Item No. | Finishes/Description | Est. Lbs. | Sale Price |
| EXC 84" MH | Mahogany, 6 Shelf Openings, 36" W x 84" H x 12" D | 106 | $449.00 |
| EXC 84" COB | California Medium Oak, 6 Shelf Openings, 36" W x 84" H x 12" D | 106 | $449.00 |
| EXC 84" OB | Natural Oak, 6 Shelf Openings, 36" W x 84" H x 12" D | 106 | $449.00 |
| EXC 84" WB | Walnut, 6 Shelf Openings, 36" W x 84" H x 12" D | 106 | $449.00 |
| EXC 84" MC | Medium Cherry, 6 Shelf Openings, 36" W x 84" H x 12" D | 106 | $449.00 |