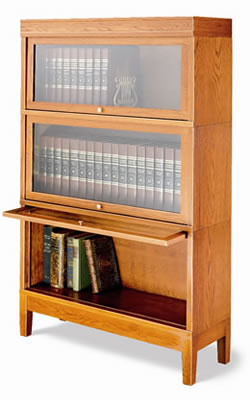 Add the touch of distinction that comes only from fine handcrafted wood furniture. Smooth lines make the 800 series the functional choice when arranging end-to-end or back-to-back bookcase groupings.
The sectional concept allows for stacking of cases without the use of tools. The beauty of the sectional case is they give complete flexibility of arrangement with many different combinations to choose from for meeting your space requirements.
Each section has an interlocking top rail across the full width of the section with an accommodating groove on the bottom. The back of the section ahs a tongue extending upwards which allows for interlocking with a section to be stacked on top. The interlocking top rail and back align each section as they stack together with a snug fit.
The top (crown) and bottom (base) interlock in the same manner as the sectionals creating a perfectly aligned case with no tools required.
View Available Finishes (pdf)