Front Load Hopper Gary® Depository Safes by FireKing
Outside Dimension: 21"H x 14"W x 14"D
Inside* Dimension: 12"H x 12"W x 12"D
Inner* compartment only, maximum package size 3" x 10-1/2" x 3"
RE model come with standard electronic lock
RC model come with standard combination lock
RK model come with standard key lock
Capacity: 1.6 cu. ft.
Theft resistant
Color: Taupe Only
The Gary Deposit Safe provides a postal-style, depository safe to fit your cash-management needs.
Model No. FB2114-RE
Electronic Lock

Model No. FB2114-RC
Combination Lock

Model No. FB2114-RK
High Security Key Lock
Available Color: Taupe Only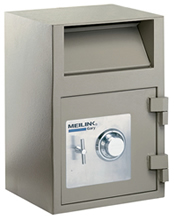 Freight and inside delivery required additional quotation, please fill out Shipping Quote Form (pdf). Contact us at 1-888-891-1970 or email at sales@filingtoday.com for a quote or more information.
F.O. B. Origin, PP&ADD.
Terms & Conditions FireKing Inside Delivery / Install Program.