FireKing Turtle® Vertical Files
Available 2-drawer and 4-drawer
Height: 52-3/4" and 27-3/4"
Width: 17-3/4"
Depth: 22-1/8"
Filing Dimension Per Drawer: 10-3/8"H x 12-3/16"W x 15-1/8"D
Color: Parchment only
Recessed handles
4-Pin key lock only
UL 1-hour fire rating
Water resistant
ETL Electronic Media - 30 min
30 foot UL impact rating
2000 Explosion Hazard Rating
Turtle Files Spec Sheet (pdf)
Follower blocks are not available for this product
Turtle® Files available in 2-drawer and 4-drawer.
Color available in Parchment Only.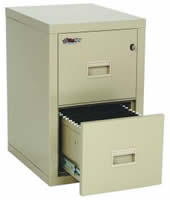 Freight and inside delivery required additional quotation, please fill out Shipping Quote Form (pdf). Contact us at 1-888-891-1970 or email at sales@filingtoday.com for a quote or more information.
F.O. B. Origin, PP&ADD.
Terms & Conditions FireKing Inside Delivery / Install Program.