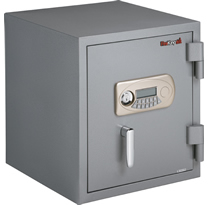 DISCONTINUED ITEM. VIEW ALTERNATIVE ITEM.
FireKing FK-Series Records Safes designed to provide economical, but uncompromised fire protection for important personal documents, this series carries a UL Class 350 1-hour fire and impact rating and an electronic combination lock, offering excellent fire protection and basic theft security.
Available in four sizes, in medium gray only. The UL Class 350 1-hour fire rating means that the internal temperature of the safe will not exceed 350° for at least one hour when exposed to external temperatures of 1700°. This exhaustive testing proves FireKing safes are built to survive the worst conditions. Featuring seamless body construction. Vinyl feet prevent scratching.