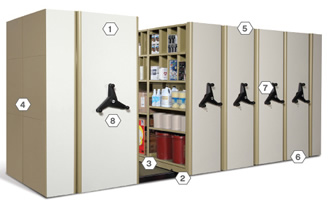 1 Enclosed Drive Mechanism - Featuring an enclosed drive mechanism and an external adjustable chain tensioner, eliminating the need to remove end panels for adjustments.
2 Recessed Track - Choose from our innovative, groutless track system or a recessed track system that can be built into the floor.
3 Decking - Choose a durable polyvinyl or unfinished decking option to continue existing flooring across the decking of your groutless track system.
4 Customizable - End panels available in custom laminates and colors to match existing décor. Click to view standard paint options.
5 Versatile - Carriages available in lengths up to 288 inches and widths of 44 inches, and are compatible with our shelving solutions.
6 Durable - Carriages are completed with a powder coat finish preventing wear and tear from daily use.
7 Handles - Engineered from a heavy duty, high grade polymer, handles feature a push button locking system. Choose between nine combinations of three handles and three knobs to suit any need and style.
8 Secure - Aisle locks prevents movement of carriages while in use.