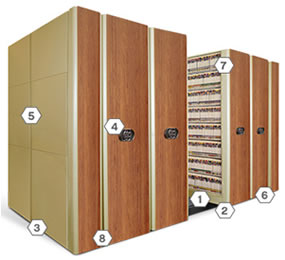 1 Motor - Featuring an enclosed drive motor allowing easy movement of carriages no matter storage sizes or weights.
2 Recessed Track - Choose from our innovative, groutless track system or a recessed track system that can be built into your existing floor.
3 Decking - Choose a durable polyvinyl or unfinished decking option to continue existing flooring across the decking of your groutless track system.
4 Electronic Keypad - Electronic keypad allows easy movement of heavy units and easy access to documents.
5 Customizable - Choose from designer end panels in custom laminates, flooring and paint colors to match existing décor. Click to view standard paint options.
6 Versatile - Carriages available in lengths up to 432 inches and widths of 60 inches, and are compatible with all Datum shelving solutions.
7 Durable - Carriages are completed with a powder coat finish preventing wear and tear from daily use.
8 Safe and Secure - Security wands, motion sensors and infrared floor sweep stop technologies ensure stored documents stay secure and provide added safety of users.