Cadfile Large Document Vertical Storage Cabinets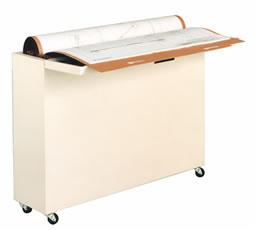 Cadfile is the perfect storage solutions when you have large documents that need great protection and have very little space to store them. Each cabinet holds 1,000 (24" x 36") large documents. That's as many drawings as two flat file cabinets, while using 75% less space. At less than 11" deep and with heavy duty casters this cabinet can fit anywhere in your office. Cadfile comes standard with caster for complete mobiility and 20 folders.
Cadfile's unique spring compression system and tuff-one folders make it easier to file large documents than small documents in your desk drawer. While the Cadfile provides the best document protection available.
Flat drawer files require 24 sq. feet of space with the drawer open, not to mention space required in front of an opened drawer. Cadfile requires only 5.8 sq. feet of space with the lid open. Cadfile is easy to use. Simply open the flip-over lid (which becomes a shelf) and pull out the required file. Best value economical unit for CAD workstations.
---
Cadfile Non-Insulated Large Document Storage Filing Cabinets
| | |
| --- | --- |
| • | Cadfile comes standard with caster for complete mobiility and 20 folders. |
| • | Please specify finishes: Putty, Medium Gray, Medium Beige, Dark Gray, Black, Platinum and Desert Sand (see below for standard color options) |
| • | Quantity discount pricing available |
| • | Additional folders click here |
| • | Freight Class from 14750: Class 70 |
| • | NOTE: Freight and inside delivery required additional quotation, please fill out Shipping Quote Form (pdf). Contact us at 1-888-891-1970 or email at sales@filingtoday.com for more information. |
Model No.
Overall Dimension
Max
Sheet-Size
No. of Folders
Folder#
Capacity
Est. Lbs.
Sale Price
Width
Height
Depth
Active
Inactive
PF500
42"
30"
10-3/4"
24" x 36"
20
9065
1,000
2,000
113
$1,183.00
PF510
42"
30"
10-3/4"
42" x 30"
20
9067
1,000
2,000
190
$1,355.00
Standard Colors shown are for representation only. All cabinets are powder coated with a durable texture finish. We have carefully selected these finishes to be similar to our old colors but you may notice a slight variation.

---
Cadfile cuts floor space requirements up to 75%!
Space Saving active capacity for 1000 "D" size (36" x 24") documents,
same as 2 five-drawer flat files in 25% of the space.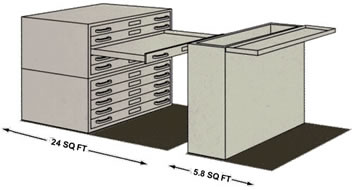 Cadfile Features:
Convenient waist height filing in a unit only 10.75" deep

Simply open the flip-over lid (which becomes a shelf) and pull out the required file

Holds and protects documents using a unique spring compression system and heavy duty folders

Standard folders have Mylar reinforced hand holes

Available customization can provide folders to hold several different sized maps, engineering plots, architectural drawings, or any documents in one cabinet

Will hold 1000 (24" x 36") documents in minimal space

Lower cost per sheet filed than any other system

Casters for complete mobility (standard)

Powder-coated finishes

Custom Colors Available

Size and weight make the Cadfile FedEx shippable

Freight Class from 14750: Class 70