Large selection of Heavy Duty Red Wallet Folders, Archival Quality Folders, Flat File Folders for oversized documents, blueprints, maps, drawings, special size and more. Large document filing solutions.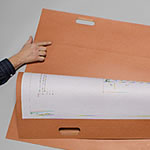 7.5" Reinforced Folder Hem
Function - The hem is designed to extend well below the tops of the documents in the folder.
Benefit - Overlapping of folder hem and documents allows the document to share the rigidity of the hem. This promotes better control and makes re-filing easier.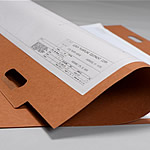 60 'Tuff-One' Folders
Function - Eighty years of history has taught us there should be no more than 50 documents per folder for active filing.
Benefit - Increases efficiency of handling active documents with a full 3000 document capacity.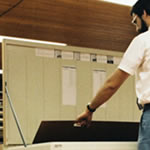 Mylar Reinforced Hand Holes in Folders
Function - All Ulrich folders are reinforced with 5 ml. Mylar hand holes to withstand up to 350lb of pull.
Benefit - Designed for maximum durability, folder life, and filing convenience.